Undergraduate research
I maintain a diverse and active undergraduate research community within my research program. I believe that establishing a connection between students and research is critical, as it engages their attention and illustrates the scientific process.

---
Over the period of grant DEB-1556953 I will be coordinating three cohorts of undergraduate researchers (2016-2017, 2017-2018 & 2018-2019) who, as well as helping to collect the primary data for the research, take a series of 1 hour classes: '
Biodiversity of Fishes
' I-IV that lead them through the process of science through practice. Each student receives research credit for helping to collect geometric morphometric data from lateral photographs of fishes at the same time they are also enrolled in the class where we are working through the process of generating a scientific hypothesis to be tested with the data they are collecting. The ultimate goal is to write and submit a scientific paper. Five of the students came with me to the Smithsonian Museum of Natural History for a month this summer to aid with morphological data collection and six more will be going in 2017.
---
Alumni
Over the past three years a total of six work-study and independent research undergraduates have been a part of the

'ecomorphological specialisation and mammalian diversification'

project.
Logan Vinson
graduated in summer 2016 and is applying for grad school this Fall. He spent two years working on the phylogenetics of the Artiodactyla (even-toed hoofed mammals) with the ultimate aim of building a new and fully-time calibrated phylogeny. He is currently investigating the claims for the utility of Cytb for determining the species relationships within this group, using the difficult antelope clade and comparing it to random sampling of the mitochondrial genome. Logan presented a poster on the antelope research at the Evolution conference in Austin TX in June 2016 thanks to an Undergraduate Diversity scholarship.
Lilia Galvez
graduated in summer 2016 and is applying for grad school this Fall. She spent a year using semi-landmark geometric morphometrics to investigate the evolution of crushing (talonid) and shearing (trigonid) parts of the lower carnassial tooth within Carnivora. She is currently investigating whether hypocarnivorous lineages (i.e. those that eat low amounts of meat) have different rates of talonid and trigonid shape evolution compared to general carnivorans. Lilia presented a poster on her findings from the semi-landmark data at the Evolution conference in Austin TX in June 2016.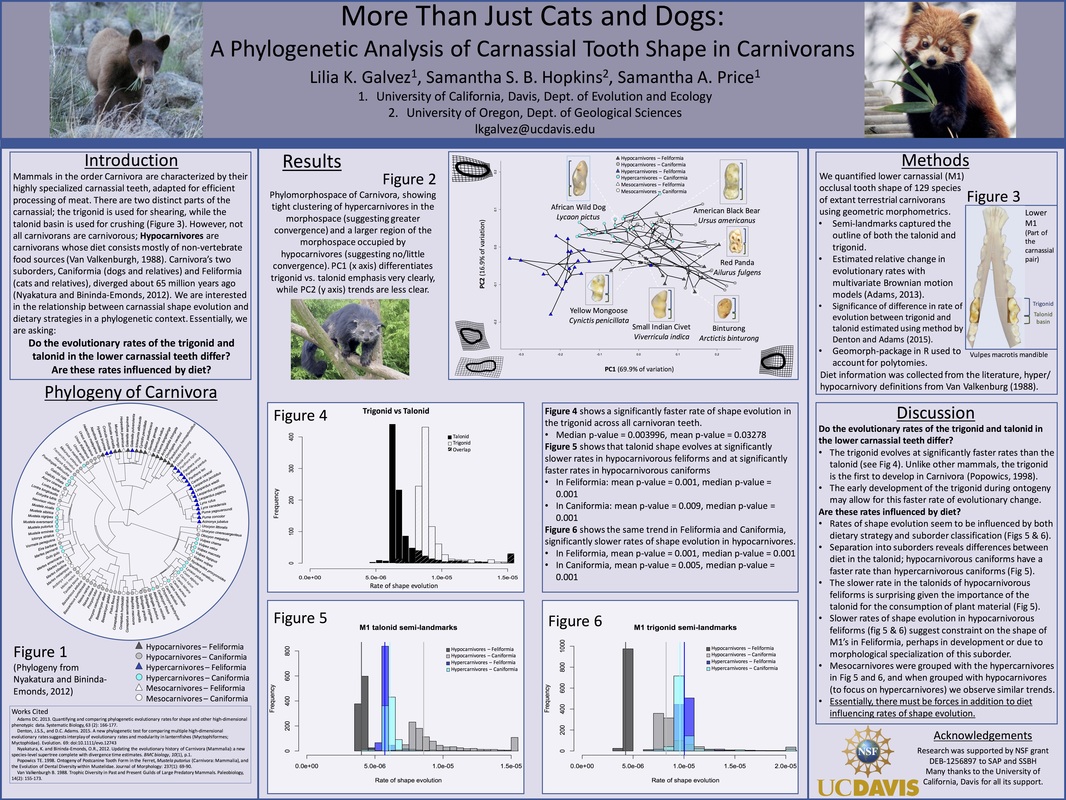 | | |
| --- | --- |
| Download a copy of the poster Lilia presented at the 2016 Evolution annual conference in Austin TX . | |
Alec Chiono graduated in summer 2015 and eventually hopes to go to grad school. He spent two years working on the landmark geometric morphometrics on the occlusal view of the upper and lower carnassial teeth across Carnivora. His work has shown that the primary cusps of the carnassials have a weak dietary signal and so are unfortunately not useful for identifying diet in fossil groups (see poster below for more details). However, this data revealed a very interesting pattern, despite morphological differences hypercarnivores within both the cat and dog sub-orders evolve at faster rates compared to generalists, which we suspect may be due to a release of constraint on the crushing function of the talonid (Price, Chiono, Galvez & Hopkins, in prep).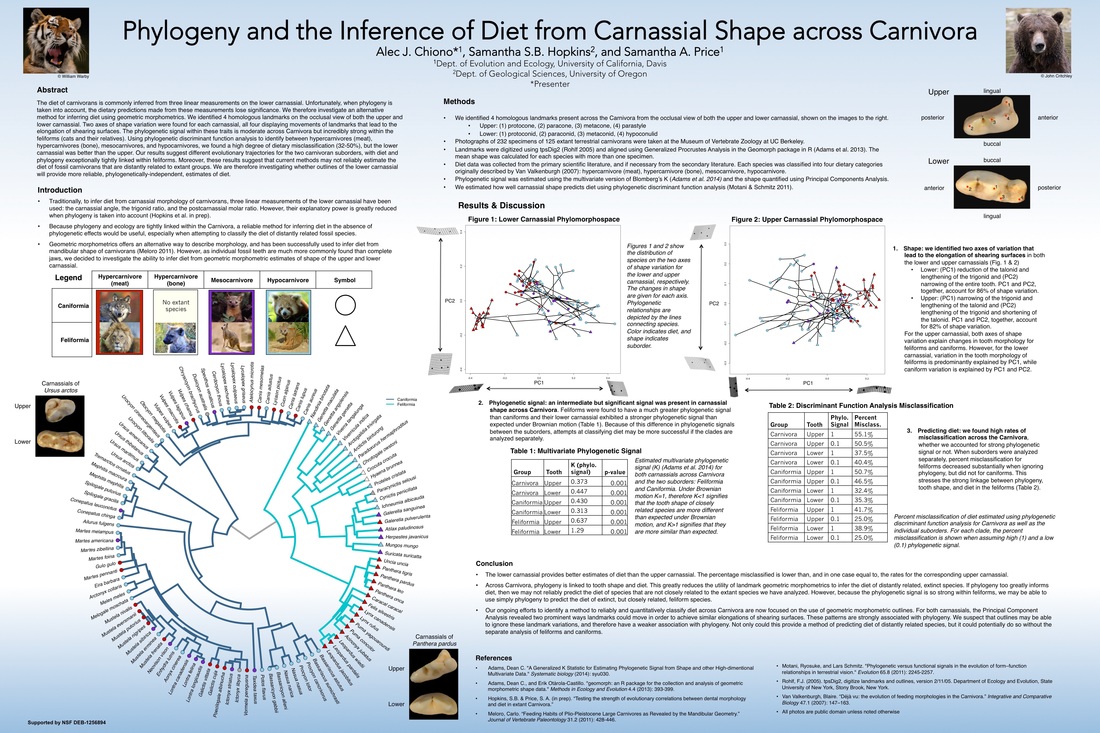 | | |
| --- | --- |
| Download a pdf of the poster Alec presented at the 2015 Society for Integrative and Comparative Biology (SICB) annual conference in West Palm Beach, FL. | |